Seeing is believing.  That is why a picture is worth a thousand words and a prototype is worth a thousand pictures.  There are times you just cannot visualize what you might need until you see it.  I often hear the complaint about how consumers don't know what they need so they are not that useful in the innovation process. While I agree they can't always articulate it, they do know it when they see it.  And, understanding a person's life and the broader context is so powerful in fueling new ideas, so we do need to seek out the people we serve. I found myself in the classic consumer role of not knowing what I needed recently. My friend, the inventor of the Car Cache, which I have previously blogged about was telling me about one of her acquaintances who had just invented a new sock. I thought to myself, do socks need reinvention? Further, she went on to tell me they were socks with holes designed in them. Crazy! I thought. I just couldn't envision why I would purchase socks with holes in them.  She was convinced I needed them so she bought me a pair to see and try.  WOW! These new socks with holes were amazing! Hard to believe I had done a 180. Further I had never even realized that I needed holey socks!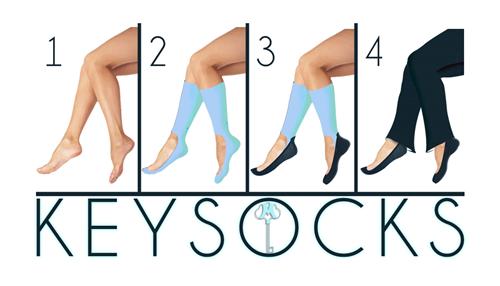 KEYSOCKS, which have a hole scooped out on the top of the foot, are warm knee socks which are topless so they can be worn with slacks and high heels or cute flats and no one will ever know you are wearing socks.  Wear them once and you will be a believer.  However, I just could not see the potential without a prototype (in my case a finished one). Still, the origin came through a low res prototype when the inventor was certain there had to be a better way. Check out her story in this link: Keysocks  and buy a pair for yourself or the woman in your life.  They will thank you for it!
Cindy
Take Action
Prototype. Prototype. Prototype.  Try your ideas out in reality by making a rough prototype and then see what people think.