How quickly our lives are changing. Simple things, that were once automatic are now conscious for you, your employees and suppliers.  Notice your own life: What is no longer automatic? Do you feel anxious when you head into a store that is familiar and yet reconfigured for the current reality? Probably yes. As a leader, It's time to deconstruct what you do for your customers and start rethinking those initial simple fixes and start building better solutions.  Businesses must move beyond responding to the pandemic to planning for recovery.
Recently I needed to pick up a necklace that I had dropped off for a simple repair back in early March.  Once retail opened back up, I called Kirk & Co. Jewelry to see if it was ready. Immediately, things were different.  They had moved to "by appointment only" and scheduled a convenient time for me to drop by, texting me to remind me to wear a mask. I was asked to text them upon my arrival so they could let me in.  Once there, I noticed they had installed plexiglass at the check-out, congruent with the design of the store. They had installed a UV light sterilizer to keep frequently touched items, and incoming jewelry cleaned before and after handling. Joe explained how they had researched the best way to manage this for the safety of people and the jewelry itself, which increased my confidence. They wipe down the counters after each customer leaves, before the next one arrives, and even have a system in back for keeping their incoming supplies sterilized.  This family store had clearly been busy embracing the new reality.  I felt at ease as I saw all the steps they were taking to make me feel that way.  After the brief transaction he walked me to the door and I left feeling genuinely impressed by this business.  Everything about the experience felt similar yet updated for our current situation. I was impressed by how they had deconstructed their business and were able to redesign it with more empathy for their stakeholders. The personal appointment, the greeting and explanation of the new changes more than compensated for the need to wear face masks. Nine months from now I imagine some of the changes, like daily masks and appointment only will have ceased. However, I bet their sanitizing enhancements to keep their store and jewelry germ free will continue to everyone's benefit.
This brief illustration is an example of how a business spent time understanding their customer, deconstructing their store experience and making simple changes which adapted and improved their customer experience.  It enhanced their equity and built loyalty.
So, there are some simple things we can all start doing to help recovery:
Understand the needs of all stakeholders in your process (employees, suppliers, customers)
Map the typical customer journey
Consider where the germs get introduced/exchanged.
Consider what can/should we do to mitigate germs and the anxiety about them at each step of the process. How visible do your interventions need to be?
Consider how and what to communicate to the customer to reassure them.
Reflect on how to do this in a way that is consistent with what we stand for and how we operate.
For those in the service business, like event planning or fine dining, the hurdles might be even greater to create the currency of trust to re-engage. In addition to deconstructing your process and mitigating germs, you must quickly prototype new approaches to continue to deliver your benefits while people continue to slowly emerge from social distancing.  We are seeing new event and experience prototypes being tested. Keith Urban hosted a pop-up drive in concert recently in Nashville. Non-profits are converting their in person fundraising dinners to deliveries in home, and virtual dining and fundraising.  At Wake Forest, they converted their WakeNShake cancer one-day dance marathon fundraiser to a virtual one leveraging Facebook Live, driving engagement and raising  over $380,000 that day. And, check out this innovative hotel in Amsterdam highlighted by the Washington Post, repurposing readily available greenhouses to create safe dining out experiences. And yes, our beloved sports must adapt too. German Bundesliga have re-started live soccer but amid empty deafeningly quiet stadia and socially distanced player celebrations.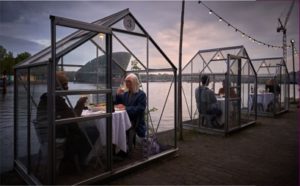 Navigating through these times requires great skill in observing the opportunity space, developing empathy and co-creating the solutions.  Human-Centered Design was born for just these types of challenges.  We are living in a great moment for creativity so let's embrace the challenge. Thanks for reading.    Next week we will be looking at that third horizon of change—leading in the new normal and creating transformative solutions.
Cindy Tripp and Duncan Paul
Take Action
Identify your key stakeholders (e.g. employee, suppliers, customers) and their vulnerabilities
Deconstruct your process and redesign for instilling trust.
Focus on delivering your benefit with excellence, yet be open to new ideas on how you might deliver that benefit. 
Explore Human-Centered Design principles to understand how to navigate and leverage in this journey.
Reach out to experts for help if you need. We are always here to help.